After having such a MEH month in July, I was feeling a little extra in August – lots of stuff going on at work (both work and fun), books and movies galore, even a simple and sweet anniversary celebration. Can't have it any other way.
AUGUST READS
Yes, I am no longer in a book slump and I'm sooooo happy to have read these books. There were highs and lows with some of them but I'm loving the quiet of just sitting and loosing myself in a book. Haven't seen my review of these books yet? Here are the links.
I am on a roll with the reading and the blogging! 😆😆😆😆😆😆
---
TV Shows and Movies
Movie Marathon? Heck Yeah! I was finally able to catch up on some movies I've been meaning to watch this year and I'm not sorry I still haven't seen some of the movies that I wanted to watch last year or the year before that…
I saw all these movies within a week. I did a movie marathon and saw 4 movies on one Saturday and even did a rerun of one of them when the hubby came home. My favorite was Alita: Battle Angel. Check out the review I did here.
Shazam and MIB International. I found these two corny. Entertaining enough but it was like they tried too hard. Or maybe they were supposed to be corny.
Aladdin and Dumbo. I hesitate to watch Live-Action Disney movies now. I appreciate what Disney is trying to do with these beloved tales and I did love Cinderella and Beauty and the Beast but I couldn't even finish Dumbo (had to DNF that movie). Aladdin I can forgive, I like the songs and Will Smith did try his best to live up to Robin Williams, also I liked Carpet. I dread to watch Lion King and whatever else they're planning to remake into live-action.
Godzilla: King of Monsters and John Wick Chapter 3: Parabellum. I was on the edge of my seat with these two. Admittedly I only wanted to watch Godzilla because Millie Bobby Brown was there (excellent acting as always), but dang they did good with those monsters. I've only sen the 1st two Jon Wick movies last year and I wasn't as excited as the hubby and the teen to watch it. First 1 min of the movie and I was more tired from all the running and fighting than Keanu seems to be. It was all fighting from start to finish but I couldn't turn away. Now waiting for Part 4.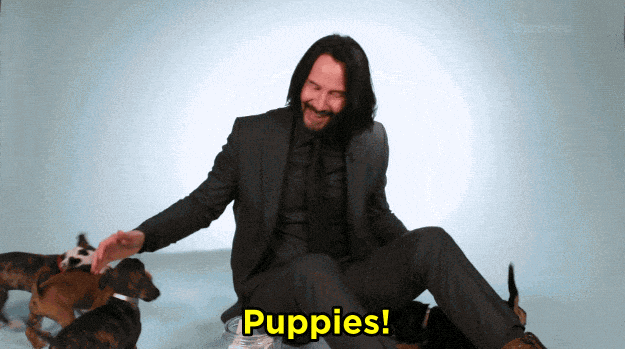 Lucifer (Season 1 and up to Episode 13 of Season 2). I didn't know why I only decided to watch this series until recently. I am loving it. It's funny watching Lucifer experience the gamut of human emotions and experiences. He's so adorable when he figures something out and it makes him uncomfortable. Also that accent is so smexy.
---
In Real Life
You'd think I wouldn't have enough time to do anything else this month except work, seeing as my time has been spent either reading or watching a movie but yes I still had my days filled with more than just work. One of the most important things this month was me and the hubby's 6th Anniversary.
6 years is a long time. Like any other couple, we've had our share of trials but also victories, pain and happiness. The most important thing is we were able to handle it together.
How did we celebrate?
By staying home and watching movies. No dinner date, I cooked the hubby's favorite food – Pork Sinigang (if you are not Filipino and would like to try this hearty sour soup you can find my recipe here) and made some egg salad spread. (basically just chopped up hard boiled eggs, mayo, then salt and pepper to taste. Didn't have any paprika for additional flavor but it worked). We also talked way into the night until the following morning. Me and the hubby like to talk about topics that make us both think. This time it was the Mandela Effect and some current events in our country. I think that is what I love best about our times together.
***
First team building with my team mates!
If you work in the call center industry like me then renting a resort, drinking yourself silly, and singing karaoke until you are hoarse is not a new thing. Rain or shine, we planned it and we had a lot of fun.
Individually, we are one drop.
Together, we are an ocean.

– Ryunosuke Satoro
We were were missing 4 other teams meats who had previous engagements or were not able to miss their family bonding but we still had fun and they were still included in this celebration if only through Facebook Messenger. For those who are curious about the food on the Banana leaf, it is called a Boodle Fight.
A boodle fight is a meal that dispenses with cutlery and dishes. Diners instead practice kamayan, Filipino for "eating with the hands". The food is placed on top of a long banana leaf-lined trestle table and in the true military practice, diners do not sit in chairs but instead stand shoulder to shoulder in a line on both sides of the table. [1]
---
Well that was certainly a productive month, wouldn't you agree? I'm tired from all the sleepless nights from work, the team building, reading, and watching movies and TV shows, but it was all worth it.
How was your August? Were you able to read a lot of books this month? I'd love to hear from you guys in the comments.